2013 Toyota Yaris Driving Impressions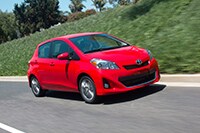 We got a chance to drive the Yaris in the snow, and it performed well. Traction was better than we expected up a steep slippery street, and anti-lock brakes delivered security on the way back down.
Secure and solid would be good ways to describe the Toyota Yaris. It's not big on the outside, It's not as quick and sporty feeling as the lightweight Mazda2 or the Ford Fiesta, and it doesn't have the exciting jackrabbit throttle response of the Mazda; but the Yaris handling is lively enough, while feeling a bit more substantial.
The ride is solid, too: comfortably firm, not comfortably soft. Yaris is wonderfully smooth on the freeway at 75 miles per hour, but begins to feel its size when the bumps and patches come along. This might be a challenge on city streets with a lot of potholes, though with the small nimble Yaris you can more easily dodge them.
The 1.5-liter, 16-valve, four-cylinder DOHC engine with variable valve timing with intelligence (VVT-i) produces 106 horsepower at 6000 rpm and 103 pound-feet of torque in a broad curve peaking at 4200 rpm.
Fuel economy is good but not spectacular with an EPA-estimated 30/37 mpg City/Highway with the 5-speed manual transmission and 30/36 mpg City/Highway with the automatic.
As for power, the Toyota 1.5-liter engine has come a long way. We found ourselves pushing 80 on an uphill freeway, foot on the floor and the engine loving it. Its 106 hp is enough for everyday driving, and the 103 pound-feet of torque is available over a broad range peaking at 4200 rpm. Torque is that force that propels you up hills and away from intersections. A broad torque curve means responsiveness when driving around town.
Uphill at 80 it was hungry for more, not straining. Eighty miles per hour equals 3400 rpm, and at that speed you can't hear the motor. You hear the tires, but hardly even any wind noise. Toyota has done an excellent job with the Yaris's aerodynamics and sound insulation.
We loved the 5-speed manual gearbox. It shifted quick and tight. Unfortunately, we have to wonder if the 4-speed automatic is outdated nowadays, considering most automakers are using at least 6 speeds for improved power management and fuel efficiency.