2014 Toyota Tacoma Driving Impressions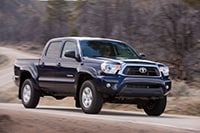 The Toyota Tacoma drives well and cruises nicely. It offers plenty of power from the V6. It handles well and feels relatively refined. Off-road models offer commendable capability over rugged terrain and good ride comfort, as well.
The 4.0-liter V6 engine uses dual overhead camshafts and variable valve technology (Toyota calls it VVT-i, for Variable Valve Timing with intelligence) to optimize power and torque over a broad range of rpm. In action, the V6 feels refined and delivers responsive performance. It is rated at 236 horsepower and a strong 266 pound-feet of torque.
Toyota's 4.0-liter V6 works well with the 5-speed automatic transmission. And that's our first choice for this truck: The V6 and automatic. The automatic is super smooth and very responsive, quickly downshifting when you mash the throttle, and it offers five ratios to better keep the engine at its most efficient rpm.
The 6-speed manual transmission is easy to shift, but first gear is a very low ratio, leaving a broad stretch to second. The 6-speed gearbox requires long throws but takes downshifts well. It's a good, solid truck transmission, without a lot of room for error; you have to press the clutch pedal all the way to the floor when shifting gears or you'll hear a crunch.
The automatic delivers comparable gas mileage, according to the latest EPA estimates, with 17/21 mpg City/Highway vs. 16/21 for the V6 and manual with 2WD; and 15/19 for the V6 and manual with 4WD.
The TRD Sport Package stiffens the ride and handling with a suspension that's more firmly tuned, mostly by the Bilstein shocks. But it's not too firm. After the shocks, 17-inch alloy wheels and wider profile tires, which definitely improve cornering, the TRD package contains mostly cosmetic things. TRD stands for Toyota Racing Development, but if you expect extra speed you'll be disappointed. The V6 engine has the same good power. It's easy to peel out and lay down a chirp when upshifting to second gear, even with the wider tires that come with the TRD package. And the excellent torque makes it easy to cruise in 5th and 6th gears, without needing to downshift to accelerate.
The 2.7-liter four-cylinder engine gets better mileage than does the V6. As with the V6, the four-cylinder benefits from VVT-i and dohc, which means it's a modern, sophisticated engine. It is rated at 159 horsepower and 180 pound-feet of torque, which is about average for the class. EPA estimates for a Tacoma with 2.7-liter four-cylinder are 21/25 mpg with 2WD and the 5-speed manual, and 19/24 mpg for 2WD with the 4-speed automatic. Both engines run on regular gas.
Handling is quite good on curvy roads. The Tacoma feels steady in sweeping turns and suffers from surprisingly little body roll, or lean, in hard corners. The Tacoma feels big on the road when compared with older compact pickups and, in fact, it is relatively large.
Size can be a detriment when parking, and a long-bed Double Cab can be a challenge in tight parking situations due to the amount of space it requires to turn. The Tacoma Double Cab long bed requires 44 feet to complete a circle, while a Double Cab short bed needs a little over 40 feet. For this reason, we recommend the short bed unless you really need to carry something that won't fit in it. A base Tacoma Regular Cab boasts a turning circle of less than 37 feet.
On pavement, the 4WD and TRD Off-road models seemed smooth and refined. Off-road, a 4WD TRD model is smooth and highly capable. The TRD suspension is excellent on rough, rugged terrain. It handles well on rough dirt trails, something we learned while charging up a ski run at Alyeska. It never bottomed on the rough terrain even when we pushed it well beyond socially acceptable standards. The Tacoma TRD also easily handled an off-road course that featured steep ascents and descents, moguls, and a log step. In short, we'd feel comfortable tackling just about any terrain in a Toyota Tacoma. And it doesn't just get there; it does it in relative comfort. The Tacoma doesn't seem to generate as much head toss as earlier 4WD compact pickups, an important consideration when driving long distances over rugged terrain, because you don't want to arrive to your backcountry camp fatigued from driving.
Switching into 4WD and 4WD Lo is as easy as twisting a rotary knob. It works very well, for the most part.
The Tacoma's brakes are smooth and easy to modulate, and they can bring the truck to quick halt without drama. The rear brakes are drums, however, less desirable than the rear disc brakes that come on so many other vehicles these days.