2016 Toyota Prius C Driving Impressions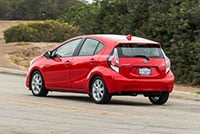 Only a few minutes behind the wheel are needed to affirm that the Prius c is hardly swift. But then, who expected it to be? Push it harder than customary, when necessary, and this subcompact will handily keep up with traffic. Be prepared to accept the inevitable noise produced by its small engine at full power, noting that not everyone is bothered by the sound.
A pushbutton-activated EV mode can keep the Prius c in full-electric drive at low speeds, but only for about half a mile. An Eco mode restricts power output and alters the climate-control settings, for even thriftier fuel usage; but forward progress becomes almost painfully slow. Even when driven with some enthusiasm, the Prius c is efficient. Reaching its 50-mpg EPA rating shouldn't be difficult.
Agile and eager, the Prius c is ideal for breezing through urban traffic and slipping into tight parking spaces. Though not sporty, the Prius c scores highly as a small, maneuverable hatchback.