2016 Toyota Prius C Summary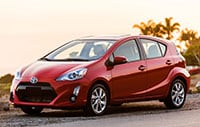 Prius c lags in refinement, but its maneuverability and practicality are in accord with rivals of its size. A base price around $20,000 yields the highest gas mileage rating of any car with plug-in capability.
Driving impressions by John Voelcker, The Car Connection. James M. Flammang contributed to this report.