2016 Toyota Prius C Walk Around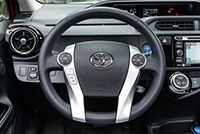 Size isn't the only visual difference between the Prius c and the bigger Prius Liftback. The subcompact Prius c lacks the two-piece back window that has been a regular-Prius hallmark for the past dozen years, despite its effect on rearward visibility. The Prius c has a more conventional, vertical rear end: an ordinary top-hinged hatchback, set between tall vertical taillamps. A long roof spoiler is intended to reduce fuel-wasting air turbulence at highway speeds.
Up front, a neatly rounded, swept-back nose eases into smooth body sides. For 2015, a huge grille opening replaced the previous friendly happy face. As a result, Toyota's smallest hybrid looks more shocked than happy.
Interior
Inside, the Prius c looks more conventional than the larger Prius Liftback. 2015's trim upgrade, using higher-level plastics and fabrics, still doesn't match the quality of the Prius. Painted metal can even be seen in portions of what must be called an economy-car interior.
Front seats are about the same as in older Prius models: thin, but adequately comfortable. Two six-foot adults can fit in the rear without excessive scrunching.
The familiar Prius hallmark, a multi-information display at the dashboard center, below the windshield, remains the focal point. Dashboard switches, however, are conventional in appearance. Instead of the stubby, idiosyncratic gear selector in the regular Prius, the Prius c has an ordinary lever atop the central tunnel.