2017 Toyota Prius v Driving Impressions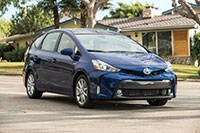 Few hybrids could be described as quick-accelerating. But the Prius v wagon, ranking as a comparative heavyweight, is more emphatically underpowered. The Prius v is about 300 pounds heavier than the previous-generation Prius liftback, which used the same powertrain.
As a result, the Prius v is likely to struggle up steeper hills, or when carrying a heavy load of people and/or cargo. Prudence dictates doing some pre-planning when you expect to pass or merge, especially if the terrain is far from flat.
In addition to holding back acceleration, limited power makes the engine more likely to get loud when pushed. The recently-reworked Prius liftback is considerably more refined.
In addition to the default Hybrid mode, the Prius v provides three driving modes. EV mode yields virtually silent electric-only propulsion at low speeds, for up to a mile or so. Hyper-milers who strive for the highest possible fuel-economy figures might like Eco mode, but others may find it painfully slow – possibly even dangerous at times. Power mode lets the Prius v do a satisfactory job of keeping up with briskly-moving traffic
Enthusiast drivers may consider the steering to be numb, or even lifeless, but they're not likely prospects for a Prius. Hybrid advocates won't be troubled by a shortage of road feel.
Though frugal, the Prius v is not a leader in fuel economy, EPA-rated at 43/39 mpg City/Highway, or 41 mpg Combined. In contrast, a regular Prius liftback is EPA-rated at 54/50 mpg City/Highway, or 52 mpg Combined. Thriftier yet is the Prius Eco edition, EPA-rated at 58/53 mpg City/Highway, or 56 mpg Combined. Hybrids typically get a higher fuel-economy estimate in city driving than for highway use.