2017 Toyota Prius v Walk Around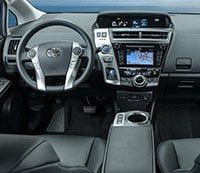 Though more ordinary-looking overall than a Prius liftback, the Prius v is still somewhat identifiable as a Prius hybrid. Despite resembling the previous Prius generation, the wagon's body panels are entirely unique.
In profile, the wagon is taller and more slab-sided than the current liftback model. A boldly bulging front end gives it a moderately aggressive appearance, markedly different from other Prius models.
Interior
Inside the Prius v, all five passengers sit higher and more upright than they would in a regular Prius liftback model. They also benefit from abundant space, for both people and luggage, helping to make the Prius v a sensible family vehicle.
Split 60/40, the rear seats can be reclined. They may also be slid forward or rearward, altering leg space for passengers and changing cargo volume between 34.3 and 40.2 cubic feet. With both seats folded, that rear space grows to 67.3 cubic feet. Toyota advises that the seat-down cargo space beats that of many smaller crossover SUV models. Because the distance between wheelwell housings is a sizable 39 inches, boxy items can glide easily along the flat load floor.
Interior storage is ample, including cupholders, handy trays, and cubbies. Plastic elements are primarily patterned and hard-textured. Less pleasing is the dashboard, which harks back to earlier Prius models. That means an imperfectly organized, full-color array of symbols, figures, and icons, visible at the windshield base.