2017 Toyota Sequoia Driving Impressions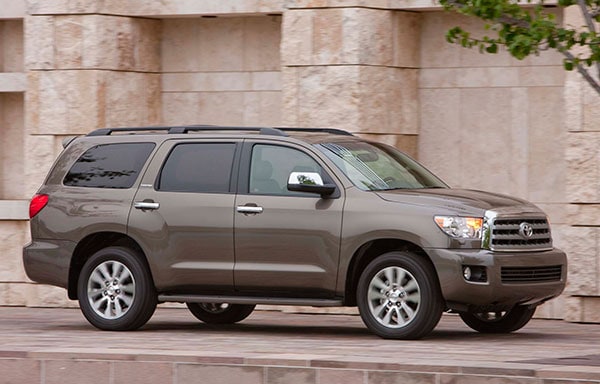 The Sequoia's rumbling 5.7-liter V8 shows off its 381 horsepower by taking the truck's massive weight and hurling it down the road fast: zero to sixty in just 6.7 seconds. Ninety percent of the engine's 401 pound-feet of torque comes on at a low 2200 rpm, so it doesn't waste a moment off the line–and that torque makes towing 7400 pounds easy. The Platinum comes with the load-leveling rear suspension, so it's the best for towing.
Thanks to the stability of the car-like four-wheel independent suspension, the ride is good for a body-on-frame SUV, although it loses some composure on an undulating highway, and there is some head-toss on rough roads. The ride is even better with the active variable air suspension system on the Platinum.
Make no mistake, it maneuvers like a bus in parking lots, but its turning circle of 38 feet is fairly slim, which helps a lot.
The four-wheel-drive versions use A-TRAC traction control, to help in mud, snow and sand. The electronic two-speed transfer case uses a lockable Torsen limited-slip differential that splits power front and rear.