2017 Toyota Sequoia Walk Around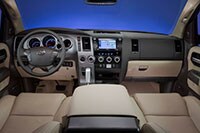 It's a macho SUV, not gone smooth like the others. On the chunky Tundra platform, the Sequoia is rounded off but comes out muscle-bound, bulging with testosterone, almost cartoon-like, with ripped sheetmetal and flared fenders. It's the biggest Toyota made, and nearly as wide as a Chevy Suburban.
The big chrome-plated plastic nose flaunts some tricky gravity to make it imposing. There's a high belt line and tall hood, then back to the chrome, in the mirrors and door handles.
The SR5 looks plain and sane. The Limited and Platinum go hog wild with the chrome, including flashy wheels.
Interior
The Sequoia ranks last when it comes to cabin luxury among full-size SUVs. The front seat feels like you're in the pickup truck that you're in. The seats are wide and soft but it's a steep climb to get there.
The instrument panel is functional but maybe overstyled, with big switchgear and displays designed to do work. Metallic matte trim runs from the dash to the center console. There are plenty of cupholders and there's good storage for small things.
Toyota's Entune infotainment system relies heavily on a connected smartphone. It's easy to use and its navigation is intuitive.
The second row is a standard bench with six inches of travel, to make more legroom or cargo room. It folds flat, along with the third row, to make a vast cargo space. The optional dual captain's chairs are more comfortable, more about people than cargo.
The third row is roomier than some, but still cramped, so basically just for kids. Power folding is optional. The driver can press a button to roll down the rear window, like a station wagon from back in the '60s.
The cabin materials might not be luxury, but the silence is. It's as quiet as a Lexus, with road and wind noise seemingly miles away.