2018 Toyota Camry Driving Impressions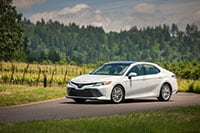 The new Camry handles better than before, although it's still average. We expected more, since the latest Prius improved its handing by so much.
The engine is no quicker than before, but it does get better fuel mileage. The 206-horsepower four-cylinder engine isn't especially powerful. It pauses when you floor it, and sometimes takes two or three downshifts to get with the program, something that's unfortunately not uncommon in cars with eight-speed transmissions and not much power. The Camry is far from the worst.
The speed of the 301-horsepower V6 with the same eight-speed, and even the Hybrid SE with its step-programmed CVT makes those powertrains more rewarding. The Hybrid SE sport model programs six simulated gears into the CVT to remove the big rubber band feeling of one-speed CVTs. The V6 gives the driver smooth speed at any time, without the need for the transmission to downshift so much.
The LE Hybrid offered as much enjoyment as the V6, if not the same kind of pleasure. It was quiet except when it was pinned, and in that situation it revs with a machinery-like noise. we drove proved as enjoyable as the V-6, in a different way. The strong lithium-iron batteries allow the car to run in electric-only mode quite frequently if the road is flat, even at medium speeds. When the gas engine comes on, its imperceptible; so too is the transition regenerative and friction braking subtle. The Hybrid isn't fast and doesn't inspire you to try, it's just smooth, quiet, and comfortable.
The previous Camry was pretty soft, so this one is inevitably better, but even the firmer SE and XSE models don't feel so sporty. Meanwhile the feel of the electric power steering is much improved over the previous numbness. The Camry grips the road as well as most midsize sedans, although the tall tires on the LE can squirm on winding rural roads if the pace moves up. The XLE's bigger wheels and tires are better.
The fully loaded XSE V6 handled best of all the Camrys we drove. It had strong acceleration, looked sporty, and was tightest in the corners.