2018 Toyota Camry Summary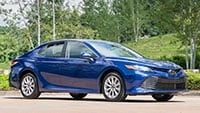 The redesigned Camry seems lacking. It's clearly an improvement, but we expected to have our socks blown off. However it's good enough, in an evolutionary and incremental way, to maintain its No. 1 position as best-selling midsize sedan. And it's unquestionably more stylish. The Hybrid LE gets 52 mpg with its lithium-iron battery pack yet with an MSRP of just $27,800. That's only about $3400 more than the original 2001 Prius that took 13 seconds to go from zero to sixty.
Sam Moses contributed to this report.