2018 Toyota RAV4 Driving Impressions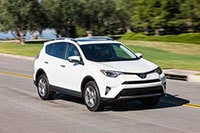 The RAV4 delivers a quiet cabin, comfortable ride, composed handling, and tepid acceleration. It's relaxed, not thrilling.
The acceleration is flat, far from breathtaking. Don't hold your breath waiting to get there. The 2.5-liter engine is smooth and refined until it's pressed. It lacks the speed (and price) of a turbocharged four-cylinder like in the Ford Escape and Subaru Forester.
The Hybrid's two-motor Synergy Drive system combines a 2.5-liter gas engine with a 50-kw (67-hp) electric motor that powers the rear wheels when needed for traction. It helps the 194-hp Hybrid scoot to 60 mph in 8.1 seconds, although its engine emits a tortured howl. The howl vanishes with a light-footed driver on his leisurely way to 20 mph on all-electric power, although not for long.
The all-wheel-drive system on the RAV4 splits power between the front and rear axles at the press of a button, at speeds below 25 mph.
The ride isn't as smooth as that of the Honda CR-V or Hyundai Tucson. The LE and XLE models, with their 17-inch wheels, actually ride better than the upscale Limited and Platinum that have bigger wheels (and therefore shorter sidewalls). The SE has firmer damping in the shock absorbers, but you can barely feel it, the ride is still good.
The thick three-spoke steering wheel suggest suggests tight cornering, but it's a big fib. The steering is nicely weighted but light on center, and delivers little road feel. The RAV4 is responsive enough, but far less sporty than a Mazda CX-5 or Ford Escape. Sport mode tightens the steering.
The transmission upshifts early at city speeds, programmed that way to save fuel. Sport mode sharpens the upshift response, and brings a throttle blip to soften hard downshifts. The paddleshifters in the SE are a bit of a fib too, because the engine can't bring much sport to them.